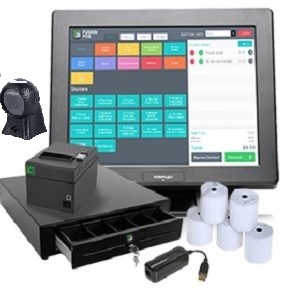 When choosing a point of sale (EPOS) system for a cafe, it's best to go with one that's designed for food and beverage. General cash registers may lack the specialized functionality required by coffee shops, but hospitality EPOS does.
However, because a tiny cafe does not usually require all of the larger-scale activities of a large restaurant, the software's complexity is also important.
A simpler checkout may be more efficient for some, but a single cafe EPOS system that manages all daily operations, including employee management and ingredient tracking, can save you time and money in the long term.
We looked at all of the alternatives in the UK and came up with this list of the top EPOS systems for cafes.
Zettle – efficient, free and simple
Best for: Cafes on a budget.
Free of charge
iPad and Android devices are compatible.
Pros:
Simple to use, quick registration, free, and built-in payments
Cons:
Limited functionality, and support can be slow.
For small businesses such as food trucks, bars, and cafes, Zettle POS is an excellent till system. It works on iPad, iPhone, and Android devices, and it's simple to use right away following a quick online registration that doesn't require a phone call.
Zettle Go POS is the app's name, and it comes with a product library where you may add food products, variants, and photos. You can assign separate user PINs to various employees and leave gratuities at the checkout. Although there are no official end-of-day reports, sales reports can be viewed at any time from the till or the web site.
The POS system accepts cash, PayPal QR code payments, and cards, as well as sending payment links for distant payments. Zettle processes online payments, but the payment methods aren't tied to a click-and-collect online buying system.
Square – choice of apps, many selling tools
Ideal for: A small café with a web presence.
Starting at £0
iPad and Android devices are compatible.
Pros:
No long-term commitment, a variety of payment mechanisms offered, and a low-cost card reader
Cons:
You can only use Square card machines online; you can't use them offline.
Because of its free, adaptable Point of Sale app and additional capabilities, Square is a wonderful place to start for many small businesses. The app is available for iPad, iPhone, and Android, but there is no offline mode.
There's also Square for Restaurants, which has extra cafe-specific features. It offers a 'Free' plan with slightly more functionality than Point of Sale, as well as a 'Plus' plan for £69 + VAT with a larger selection of functions (no commitment required). This includes an unlimited number of till licenses at a single location, which is a terrific deal for cafe with many tills.
Square for Restaurants, on the other hand, is only available for iPad and Square Register, not Android.
Advanced tipping and service charges, table layouts with orders attached, meal menus and items with variants, employee management, a kitchen display system, and gift cards are among the restaurant's features. You may still accept cash payments and use certain iPad capabilities if your WiFi or network connection goes down.
Square has some add-on plans, such as Loyalty, that allow you to construct a customer loyalty program based on points. Integrations, such as MarketMan for food inventories, can add additional functionality in practically any field.
Goodtill – well-adapted for socially distanced orders
Best for: Getting a lot of features for a minimal price.
Pricing starts at £29 + VAT per month per till.
iPad is the only device that works with it
Pros:
Table-side and online ordering options, add-on options, and offline mode
Cons:
12-month commitment, Android compatibility is not available, and advanced functions come at an additional cost.
Goodtill is an iPad EPOS solution with a low entry point: the core POS module costs £29 + VAT. cafes can then add the Hospitality module, as well as other feature modules such as sophisticated promotions, kitchen display, and customer loyalty, for an additional £9 per month. However, you must sign up for a minimum of 12 months, so it is a significant commitment.
Users like the till software, which provides a pleasant, customizable interface for the checkout screen. The complexity of your food and beverage business will determine whether you require more than the Core POS module. Ingredient management, client profiles, table management, and tabs, for example, are all available in the Hospitality module but not in the Core module. Because the till software operates offline, a lack of internet isn't an issue.
In your cafe, the Goodtill self-service checkout can take the role of face-to-face ordering.
Goodtill is one of the most affordable choices for coffee businesses looking for alternative social distancing arrangements. You can develop a web page for your website or social media profile for buying food online at no cost on a monthly basis. Transaction fees are the only costs you have to pay. Goodeats is a solution that allows you to print QR codes that clients may scan with their phones to place orders and pay at the table.
Alternatively, you can add a Self Checkout Terminal (at an additional cost) that allows customers to order from an iPad menu at their table or at the front of the coffee shop.