Take your Business to the next level
With all In One Complete ePos System
Fast and reliable ePOS/POS Systems with SSD drive 15" Touch Screen. We deliver and Setup Nation Wide with branches in Leeds/Bradford, Manchester ,London, Birmingham and Glasgow.
Buy Now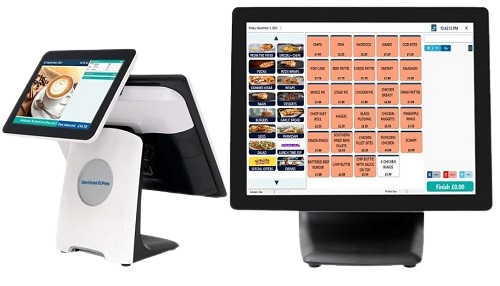 Digital Signage
Slim design comes with Signage player and Art Work.Play animated or static Art work .Cloud Based. Ideal for Menu Boards or advertisement.
32" to 55" Digital Signage screens.
Buy Now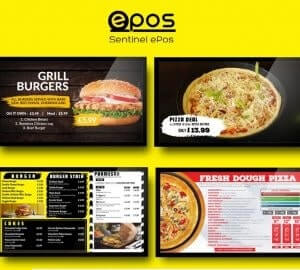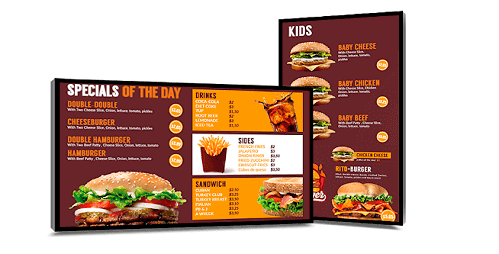 Restaurants & Take Away ePos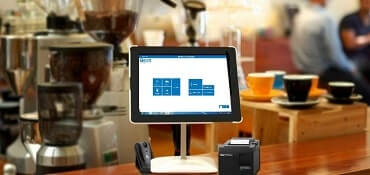 Save Time & Improve your sales
Speedy Interface and Quick Checkout
Easy to Use and Manage
Inventory Control
Quality Reporting
Easy to Setup and Configure Menu
Table Management and Reservations
Comprehensive Training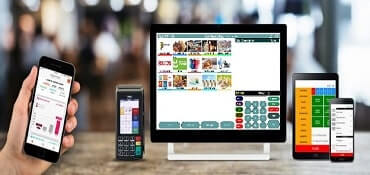 Control Your Business from One place.
Intuitive graphical table service order management
Handheld order to speed up table service
Telephone and online ordering management
Live table bookings with smart configurations
Kitchen display systems
Purchase ordering and supplier management
Stock control with first-in/first-out accuracy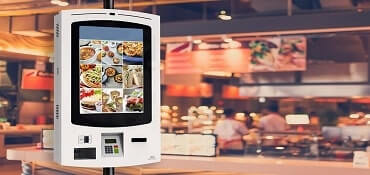 We have a wide range of Self-Service Kiosks & Digital Signage Displays available with 15.6″ to 55" touch screen,  packed with functionality and convenience in an appealing design. The Self-Service Kiosks can be integrated with a range of peripherals including barcode scanner, printer and much more allowing the Kiosk to be configured to meet your Requirments and enhance customer engagement.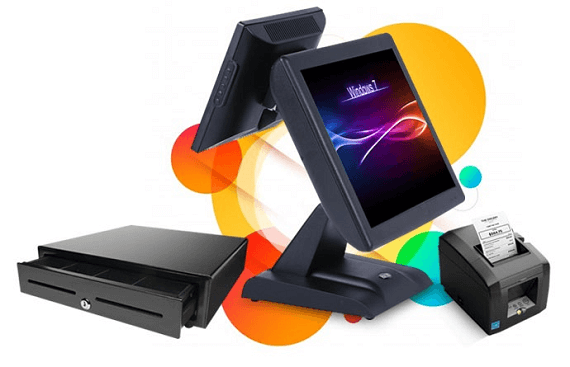 ePos Systems For Small Business
Small retail owners are challenged with a unique set of hurdles in today's modern market.
As a business owner, it's your responsibility to be equipped to deliver a flawless customer service experience that elevates your business for the right reasons. Technology is no doubt going to play a crucial part in that role. So making sure you have the right systems in place to aid the customer experience, as well as being easy to use for your staff is of vital importance.
Here at Sentinel ePos we are dedicated to helping you find the right solution for your business. Our ePos Systems are perfectly tailored to restaurants, off-licenses, takeaways, and mobile phone shops as well as a wide range of other small businesses in the London area.
We have a wide variety of ePos system packages available for all budgets. Our systems are suitable for restaurants, mobile phone shops, takeaways, off-licenses, grocery shops plus a variety of other small businesses. So call us today on 01274 955460 are friendly staff are on hand to take your inquiries now.
What Clients Says About Us
Was working with the developer Asif,
he sorted all the problems we had told him there were after using the system for a couple of days. He sorted it straight away and made the system so quick and easy for us that we can take a lot of orders without consuming as much time as writing it down.
Business Name
Shimla Restaurants Halifax
Professionalism,
 Quality,
 Responsiveness,
 Value
Brought epos system fantastic machine very easy to use .would recommend them to anyone … 5 star rating thank you so much for all the support and training.
Business Name
Seek & Find

Steve lees

Excellent Epos & Support
Since we started using the system we have received a prompt and helpful response to any problems we have had. Mind you the largest amount of problems was just a learning curve for employees. The system works well and I would not hesitate to advise other retailers to give it a go. Really easy and fast system thanks again
Business Name
Georgie Porgy cafe