Wide range of Digital Signage Displays
From 15.6″ to 55" touch screen Starting From £ 450
Animated or Still design plays as slideshows or make a video wall
Buy Now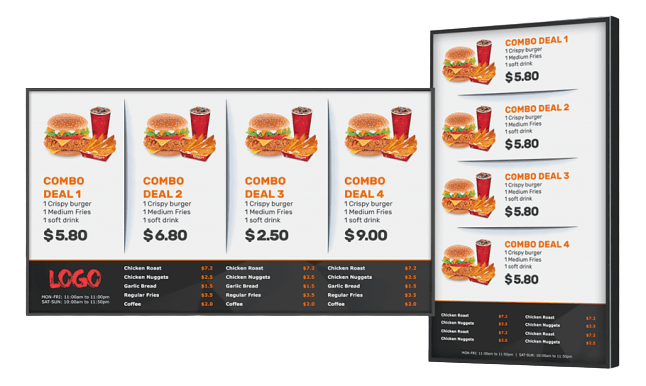 Cloud-Based Signage Screen System
With Sentinel ePos Cloud Signage Screen & Digital Menu Boards you can access to access your media 24/7 from anywhere, schedule the changes in menu and edit your Menu from anywhere.
Animated Designs - HD- 4K Ultra Screen
With our Signage Screen display, your menu Animated or Still design plays as slide shows or make a video wall with our 4K Ultra HD Signage Screen.
We have a wide range of Digital Signage Displays available with 15.6″ to 55" touch screen,  packed with functionality and convenience in an appealing design. The Digital Signage can be integrated with a range of peripherals including barcode scanner, printer and much more allowing to be configured to meet your Requirments and enhance customer engagement.