Self Checkout Kiosk
.Play animated or static Art work .Cloud Based. Ideal for busy Environment.
32" to 55" Kiosk screens.
Contact us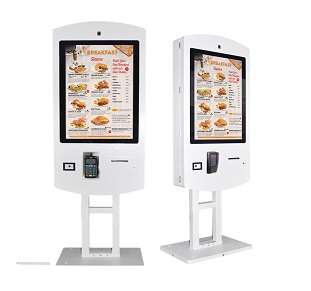 Self-Service Kiosks
We have a wide range of Self-Service Kiosks & Digital Signage Displays available with 15.6″ to 55" touch screen,  packed with functionality and convenience in an appealing design. The Self-Service Kiosks can be integrated with a range of peripherals including barcode scanner, printer and much more allowing the Kiosk to be configured to meet your Requirments and enhance customer engagement.
We can help you create change that matters—transformation, enabled by technology and sustained through capabilities.
Our Kiosks System has everything you need to drive your organization securely into the digital era, connecting more deeply with your customers and delivering the omnichannel experience they expect. We help our clients harness the power of data and artificial intelligence, modernize and capitalize on core technology, optimize and automate operations, fuel digital growth, and create a stunning digital experience between your business and customers.
Key Features
Self Checkout Touch screens systems.
Available in 17" 32" 40" Sizes
Stand Alone with ground fixtures
Fully integrated with an epos system
Ideal for a busy environment.
Inside back cover