Wide range of Digital Signage Displays
From 15.6″ to 55" touch screen Starting From £ 450
Animated or Still design plays as slideshows or make a video wall
Buy Now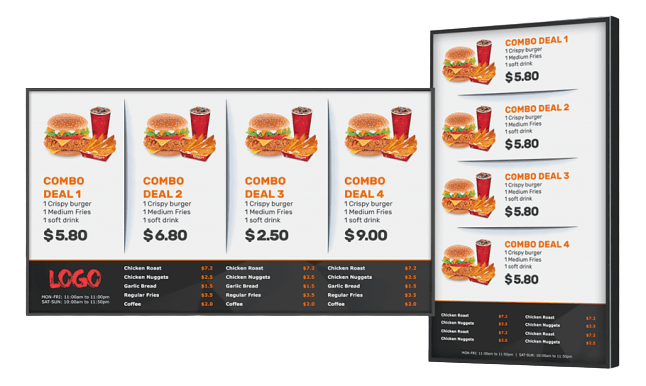 Digital Menu Boards In Glasgow
Cloud-Based Signage Screen System
With Sentinel ePos Cloud Signage Screen & Digital Menu Boards in Glasgow you can access to access your media 24/7 from anywhere, schedule the changes in menu and edit your Menu from anywhere.
Animated Designs - HD- 4K Ultra Screen Digital Menu Boards
With our Signage Screen display, your menu Animated or Still design plays as slide shows or make a video wall with our 4K Ultra HD Signage Screen.
We have a wide range of Digital Signage Displays or Digital Menu Boards In Glasgow available with 15.6″ to 55" touch screen,  packed with functionality and convenience in an appealing design. The Digital Signage can be integrated with a range of peripherals including barcode scanner, printer and much more allowing to be configured to meet your Requirements and enhance customer engagement.